Setelah melalui audisi di 13 kota, akhirnya L-Men of the Year 2013 telah berhasil meloloskan 169 semifinalis yang nantinya akan diseleksi kembali untuk menentukan siapa saja yang akan lolos menjadi Grand Finalis tahun ini. Sesuai tradisi, IP pun tahun ini kembali memilih sejumlah nama yang menjadi favorit pilihan IP untuk lolos ke tahap lebih lanjut. Dan inilah 20 nama semifinalis yang mencuri perhatian IP tahun ini :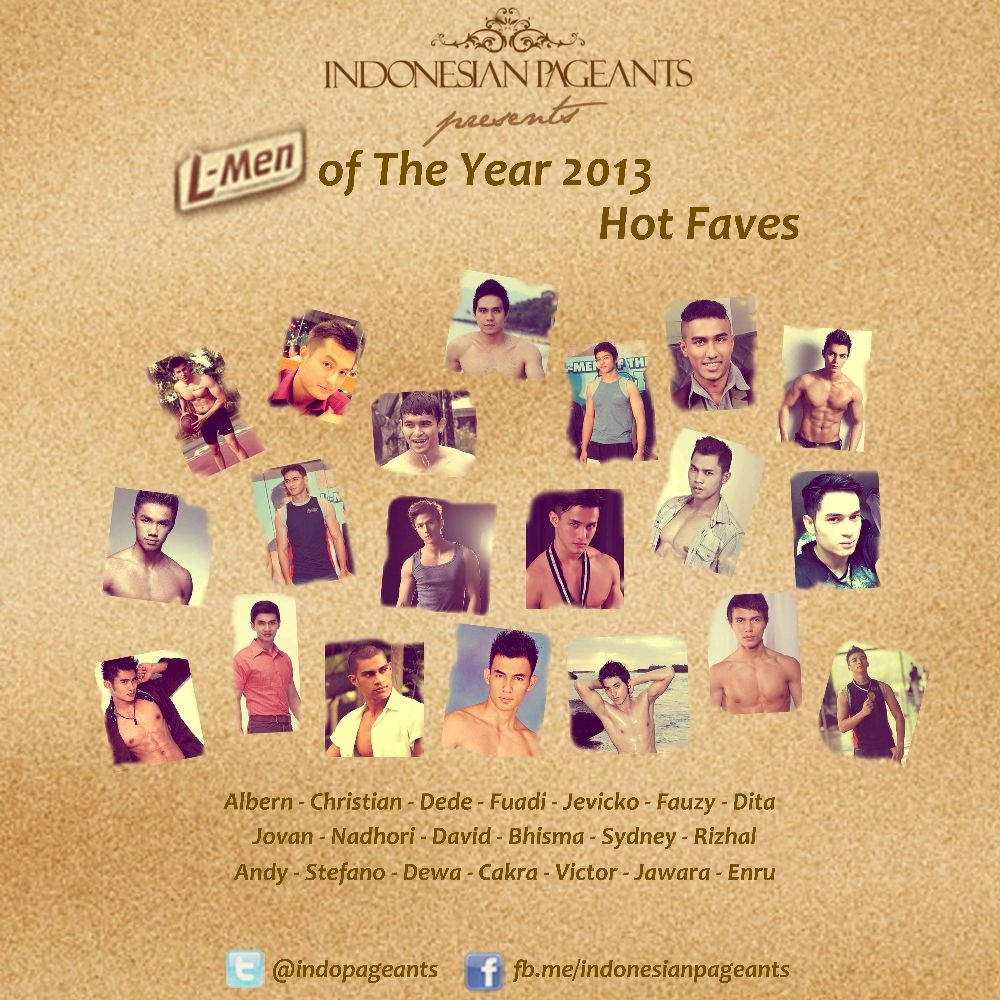 The Hot Faves
Dita Yudistira (Bali)
Cakra Bayu (Makassar)
David Santoso (Medan)
Fuadi Bondan (Lampung)
Rizhal Muhammad (Semarang)
Dewa Ramly (Jakarta)
Bhisma Wijaya Mulia (Semarang)
Christian Ronald Silaban (Bandung)
Enru Jocom (Manado)
Jevicko Lakhwani (Jakarta)
Jovan Koswara (Bandung)
Raden Sydney Samba (Yogyakarta)
Albern Sultan (Medan)
Stefano Sakti Aji (Yogyakarta)
Fauzy Saleh (Medan)
Achmad Nadhori (Pekanbaru)
Victor Satriawan (Bali)
Dede Alvian (Samarinda)
Andy Mukti (Semarang)
Jwara Lumentut (Manado)
Tentunya pilihan tersebut hanya mencerminkan pilihan IP sendiri dan belum tentu sama dengan pilihan juri. Bahkan mungkin saja nantinya pilihan IP tidak ada satupun yang masuk jadi pilihan juri. Tapi bukan masalah karena setiap orang bebas kan berpendapat dan beropini selama tidak menyinggung orang lain. Siapapun nantinya yang lolos menjadi Grand Finalist LOTY 2013, IP pastinya ikut senang dan mendukung, karena kegiatan LOTY ini adalah kegiatan yang sangat positif dan sudah pasti wajib kita support.
Good luck to all semifinalists! May the best man win!